10361 Tamiami Trail, Punta Gorda, FL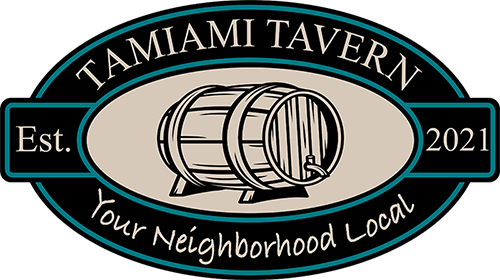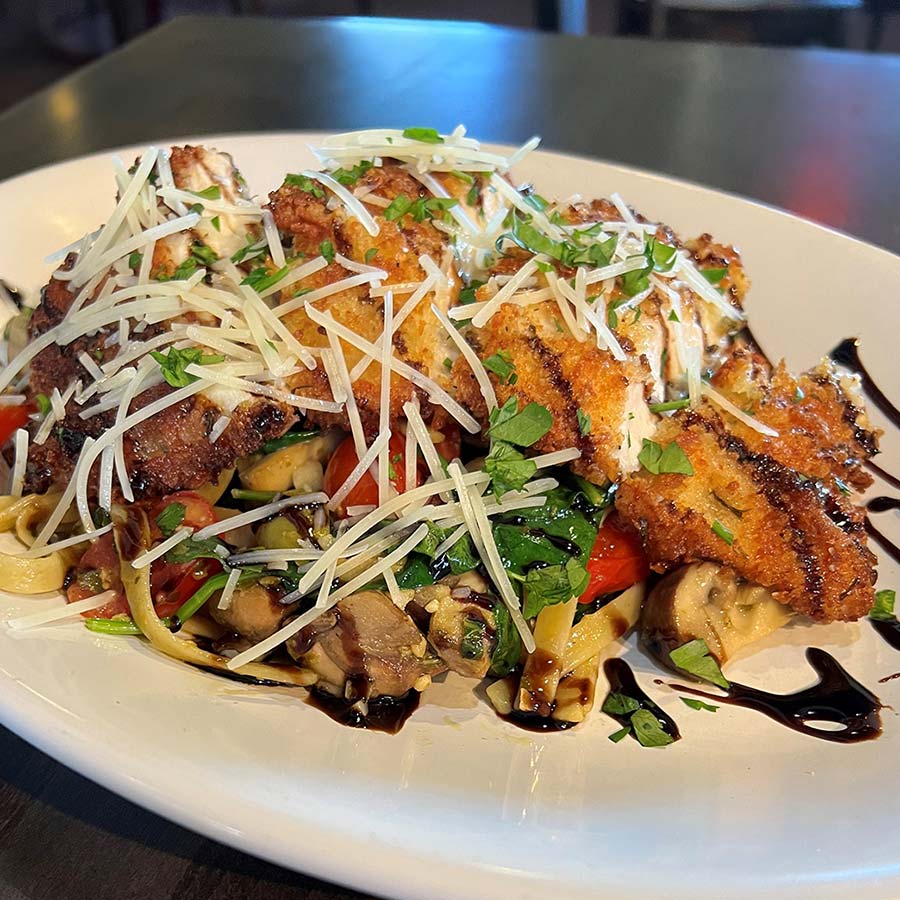 Now Open!
Hours: Tues – Sat, 4 – 9 PM
Tamiami Tavern is opening. A casual, hometown eatery, "Your Hometown Local" speaks to the owners' British roots.
When you're 'going to the Local' in England, you're headed to your favorite pub where you meet up with your friends and neighbors to enjoy a drink and maybe a meal.
At Tamiami Tavern, you can expect some great beers on tap and bottled, great house wines, cocktails – and some delicious meals! Chef Ryan is already creating unique dishes for your dinners.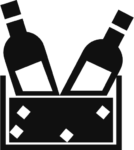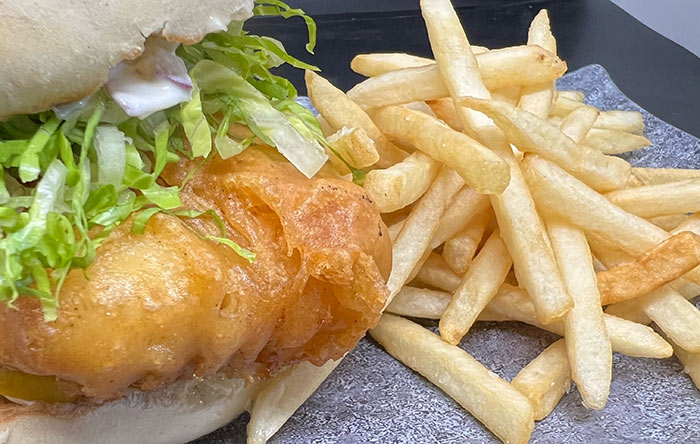 Our Menu
Welcome to Tamiami Tavern  your local place to drop in for a bite to eat, a drink or two, and socialize with friends. Our menu is designed to offer lighter options, full service dinners and some unique flavor combinations. We hope you enjoy our new concept!
Explore our new menu by clicking the plus signs + below!
Soups and Salads
French Onion Au Gratin
A rich beef broth loaded with caramelized onions and topped with crostini and melted gruyere cheese 7
Lobster Bisque
A house favorite, rich and creamy, finished with a drizzle of coconut crème and fresh snipped chives 8
House Salad
Mixed greens, cherry tomatoes, green olives, pickled onions, banana peppers and croutons tossed in our house made parmesan peppercorn dressing 8
Caesar
Our twist on the classic; romaine tossed in house caesar dressing and parmesan, with roasted tomatoes, red onions and topped with croutons 8
Tavern Chopped
Romaine, tomatoes and onion tossed in our house made 1000 island dressing and topped with avocado, bacon, hard boiled egg and shredded cheddar cheese 10
Orange Maple
Mixed greens, apples, pears, dried cranberries, gorgonzola and candied walnuts, tossed in our house made orange maple dressing 10
Salad Add Ons
Chicken 4, Sesame Tuna 7, Shrimp 8, Sea Scallops 10
Appetizers
Stuffed Banana Peppers
Garlic and herbed cream cheese mixed with pomodoro and extra virgin olive oil stuffed large banana peppers and served with crostini 12
Bavarian Pretzel Bites
Tossed in garlic butter and sprinkled with coarse salt served with our house made beer cheese and honey mustard 10
Jumbo Lump Crab Cake
Creole remoulade, arugula, charred lemon, green goddess dressing 18
Kung Pao Calamari
Flash fried calamari with cherry peppers, matchstick carrots, scallions and arugula served with a spicy peanut glaze 14
Tuna Nachos
Corn tortillas, rare sesame tuna, roasted corn, avocado, fresh pico, pickled onion, jalapeno and bang bang sauce 16
Spinach Artichoke Dip
Garlic and herbs in cream cheese mixed with spinach, artichokes and mozzarella, served with house made crostini 11
Pulled Pork Poutine
Roasted pulled pork atop shoestring fries with gorgonzola and demi-glace 13
Classic Poutine
Our version of this classic dish; shoestring fries topped with our beer cheese sauce and cheese curds with demi-glace on top 10
Tavern Barrels
House made potato tots served with house made buttermilk ranch and our creole remoulade five barrels 7, eight barrels 10
Sandwiches
All sandwiches are served with your choice of either our shoestring fries or our house side salad; you can choose to upgrade to our truffle fries or our sweet potato waffle fries for just 2
Tavern Burger
House made crispy onions, arugula and gorgonzola cheese topped with our signature truffled steakhouse aioli on a Costanza roll 15
Beef on Weck
Thinly sliced house cooked beef on a toasted Kummelweck roll and horseradish served with a side of au jus 15
Buffalo Chicken
Hand breaded and deep fried topped with buffalo sauce and blue cheese dressing on a Costanzo roll 13
Beer Battered Cod
Classic beer battered cod topped with shredded lettuce, pickles on a Costanzo roll with our house made jalapeno tartar sauce 14
BBQ Pulled Pork
Our house cooked BBQ pulled pork topped with our creamy slaw made with apples, pickled jalapenos and cheddar cheese served on a Costanzo roll 13
Tuna Tacos
Flour tortillas filled with our shredded vegetable slaw, pickled onions, and topped with blackened tuna and our house made pineapple salsa and cilantro lime crema 14
Entrées
Filet Mignon
6oz filet, topped with roasted red peppers, spinach and gorgonzola cheese and drizzled with our house demi-glace. Served with asparagus and whipped potatoes 34
Pan Seared Sea Scallops
Gnocchi, roasted brussels and bacon hash, charred apple cream sauce with a drizzle of chili honey 28
Pork Chop
12oz chop, whipped potatoes, green beans and carrots, crispy onions, cherry pepper butter and demi-glace 23
Pistachio Crusted Cod
Parmesan risotto, charred asparagus, strawberry prosecco butter sauce 23
Asiago Crusted Chicken
Whipped potatoes, toasted almonds, green beans and carrots, dijon cream 19 Lobster & Shrimp Fettuccini- roasted tomatoes, asparagus, exotic mushrooms, baby spinach, brandy cream sauce 27, or our lighter bites portion 19
Fish and Chips
House made beer battered cod, shoestring fries, coleslaw and tartar sauce 20, or our lighter bites serving 14
Cajun Meatloaf
Whipped potatoes, green beans and carrots, crispy onions, tomato jam, demi-glace 22, or our lighter bites portion 16
Lo Mein Stir Fry
Zucchini squash, peppers, onions, shredded vegetable slaw, sweet & spicy teriyaki glaze 22, or our lighter bites portion 16
Add Chicken 4, Sesame Tuna 7, Shrimp 8, Sea Scallops 10
Sides
Whipped potatoes 5 Shoestring Fries 5
Truffle Shoestring Fries 7
Parmesan Risotto 5 Asparagus 6
Green Beans and Carrots 5
Sautéed Mushrooms 5
Brussels and Bacon – thai glaze 5 Demi-Glace 2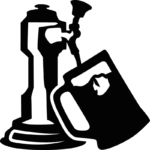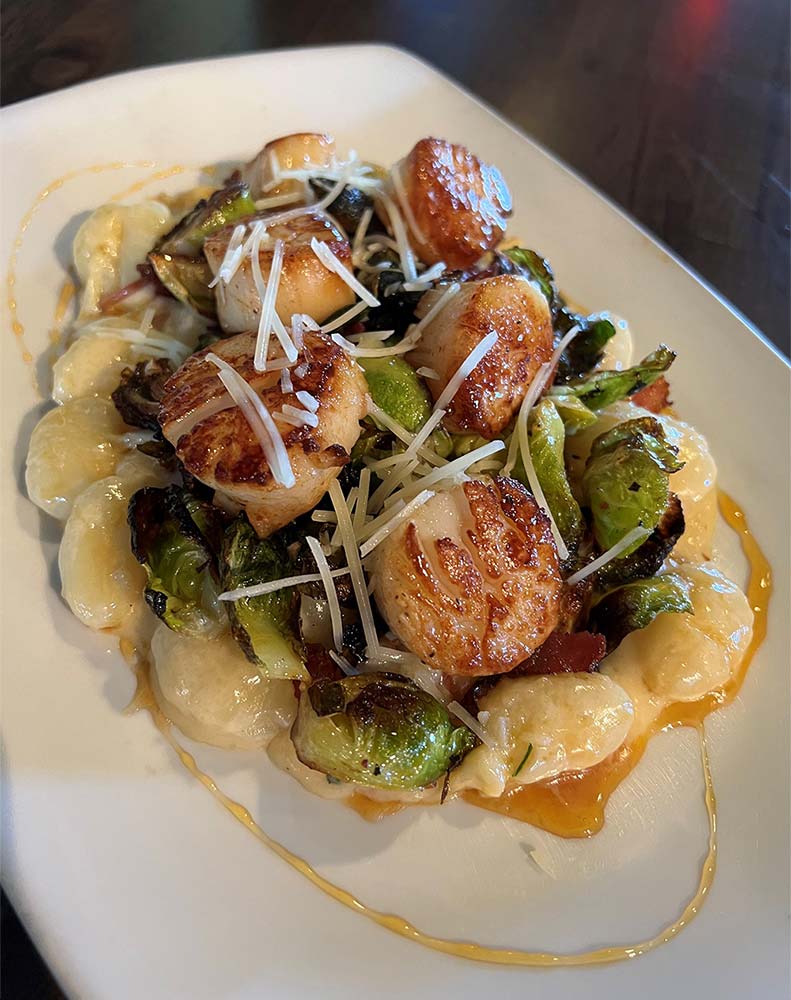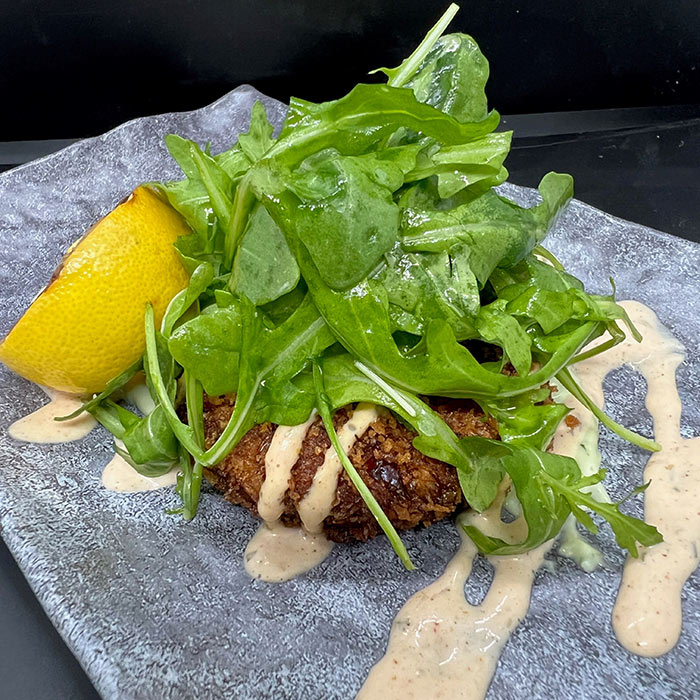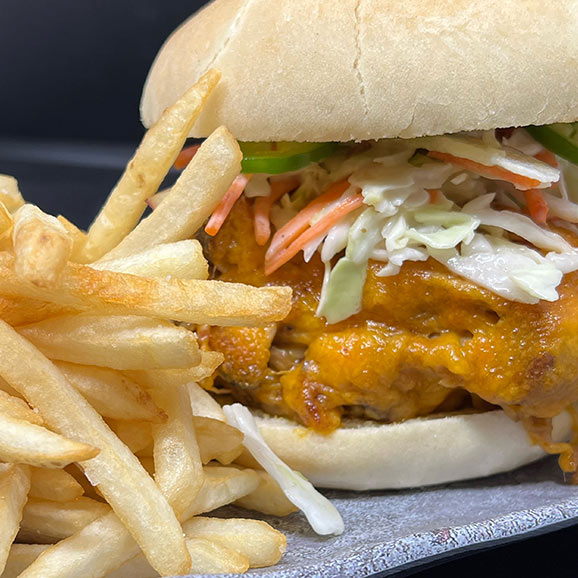 Sign Up For Our Newsletter
NOW Open for Dinner
Tuesdays – Saturdays, 4 – 9 PM
10361 Tamiami Trail, Punta Gorda, FL
Copyright© 2021. All Rights Reserved.
All images copyright© Tamiami Tavern